Fall and football are upon us…. it's time for chili!!!
JK's Firehouse Chili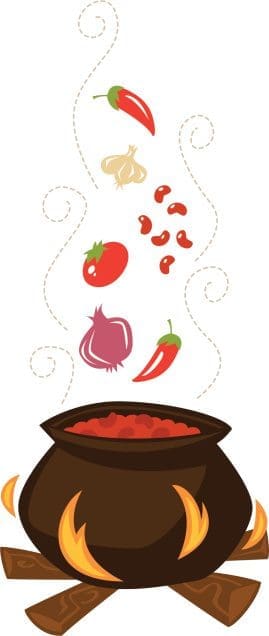 2 medium onions
2 green peppers
3 cans chili ready tomatoes or 3 cans tomatoes with green chilies
1 poblano pepper
Green tabasco sauce
Worcestershire sauce
1 package chili seasoning
Sriracha hot chili sauce
Chili powder
4 garlic cloves
3 cans dark red kidney beans
Kosher salt
Pepper
1 lb. ground beef
1 package round steak (I also typically smoked this prior to using for more smokey flavor)
Cut onions up.
Cut green peppers into smaller chunks.
Cut round steak into bite-size chunks.
Put onions, green pepper, and steak into large skillet. Add 5 tbs of Worcestershire sauce.
Add ground beef and 4 cloves chopped garlic.
Turn on heat to medium.
Add kosher salt and pepper to the above pan.
Cook until browned – make sure there is still juice in the pan. If not, the meat is overcooked.
When meat is done put it all in a crockpot.
Add cans of chili-ready tomatoes or tomatoes with green chilies.
Add 2-3 cans of dark red kidney beans.
Cut poblano pepper into small chunks, add to crockpot.
Stir together.
Add green tabasco sauce, 4-5 tablespoons (or more to taste).
Add 3-4 tablespoons of sriracha hot sauce (or more to taste).
Add chili powder to taste.
Add package of chili seasoning mix.
Stir and add 2 or so more tablespoons of Worcestershire sauce.
May add cumin or cayenne pepper for more heat.
Let cook in crockpot for at least 2-4 hours to tenderize the steak.
Note: May also marinade the meat in Worcestershire sauce overnight for more flavor and if a smokier taste is preferred some liquid smoke.
Veg Option
NOTE that this is prior to my vegan days! Here's a veg recipe that's not mine (credit: The Southern Vegan cookbook) but rocks!