Imagine a virtual extension of your brain that stores, organizes, and enhances your ideas, and shares them across any device – welcome to the Second Brain! In today's fast-paced and competitive world, maintaining a productive workflow has become more essential than ever. As marketing and business leaders, finding ways to manage your projects, ideas, and to-do lists is paramount. This is where the exciting concept of a Second Brain comes in.
In this blog post, I'll share the magic of the Second Brain, how it's transformed my own productivity, and most importantly, how you can harness its powers to evolve your personal and professional life.
What is the Second Brain?
The Second Brain, an approach popularized by productivity expert Tiago Forte, is the idea of creating an external digital repository for your thoughts, ideas, and information. This "brain" exists in the cloud, allowing you to access and sync your data between multiple devices. The primary goal of the Second Brain is to optimize your workflow, improve organization, and make your life more manageable.
As I stumbled upon this fascinating concept, I realized that I've been unknowingly applying its principles to my own life. For years, I've used my computer and mobile devices to sync my notes and to-do lists across various platforms. It's a constant pursuit for refining my organization and productivity strategies.
Benefits of a Second Brain
A Second Brain is much more than just a fancy note-taking app; it's a productivity revolution. Here are some of the significant benefits it offers:
Increased innovation: By capturing and storing ideas, you can evaluate and expand upon them later.
Enhanced creativity: With easy access to past ideas and information, creative connections are more readily available.
Reduced cognitive load: Storing ideas externally allows you to focus mental energy on what truly matters.
Accessible knowledge: Cloud-based storage ensures your data is accessible from anywhere, at any time.

Implementing Your Second Brain: Practical Steps
Ready to boost your productivity with the Second Brain concept? Here are some actionable steps:
Choose your platform: Select a cloud-based, cross-platform app to store your ideas and data. Popular choices include Evernote, Notion, and Microsoft OneNote (my platform of choice at the moment).
Create your categories: Organize your Second Brain with categories or folders that mirror your specific areas of interest or responsibilities. My main "Notebooks" include a Scratchpad, Journal, JRK, Recipes, Guitar & Music, BYK Instruments, Client Work, LOVFD, Home and Health.
Start capturing: Develop the habit of saving ideas, notes, articles, or other information you come across in your daily life.
Set up sync: Ensure your Second Brain is syncing across all your devices.
Review and refine: Regularly review your stored ideas to evolve your thinking, refine projects, and develop fresh insights.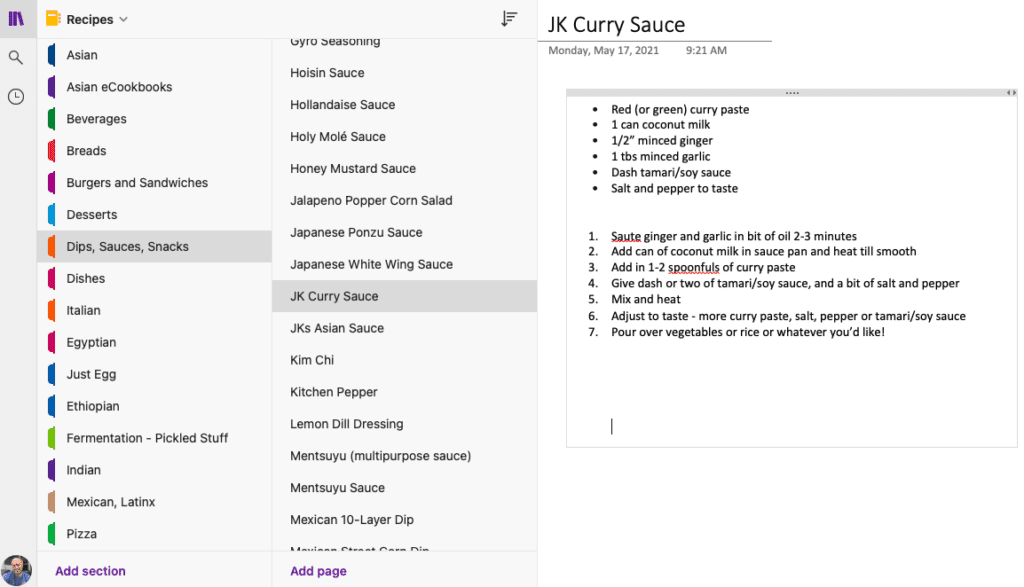 My Second Brain Journey: From Chaos to Clarity
Since implementing my own Second Brain (inadvertently), I've gained newfound clarity in both my personal and professional life. Gone are the days of scattered ideas across countless documents and devices (and my famous, yet short-lived, sticky note collection). Instead, I have a centralized system for organizing and refining my thoughts, making me more efficient and effective.
By empowering my Second Brain, I'm able to:
Rediscover forgotten ideas or mixed-in articles
Make connections between diverse concepts
Rapidly access my treasure trove of insights and ideas
Reflect on past accomplishments and projects
Looking Ahead: Harness the Power of Your Second Brain
The concept of a Second Brain is not new, but it's gaining traction in the productivity sphere. As we strive to keep up with our fast-paced lives and ever-increasing workloads, having an organized system is essential for success. By investing in your own Second Brain, you can evolve your personal and professional life through increased productivity and enhanced creativity. So, I urge you to start harnessing the power of this incredible concept – let's get those brains ticking!
Good luck on your journey to productive bliss! 🙂
You may be wondering, how do I get started? Well, my top piece of advice would be to start small and work your way up. Begin by capturing a few ideas each day. With the right tools, you can quickly develop momentum and build an efficient system tailored to your individual needs.
From there, it's all about refining and optimizing your Second Brain for maximum productivity. As you begin to harness the power of this concept, don't forget to share your own experience and tips in the comments below. I'm excited to hear how you're using this amazing technology magic!
Happy building & organizing! 🙂