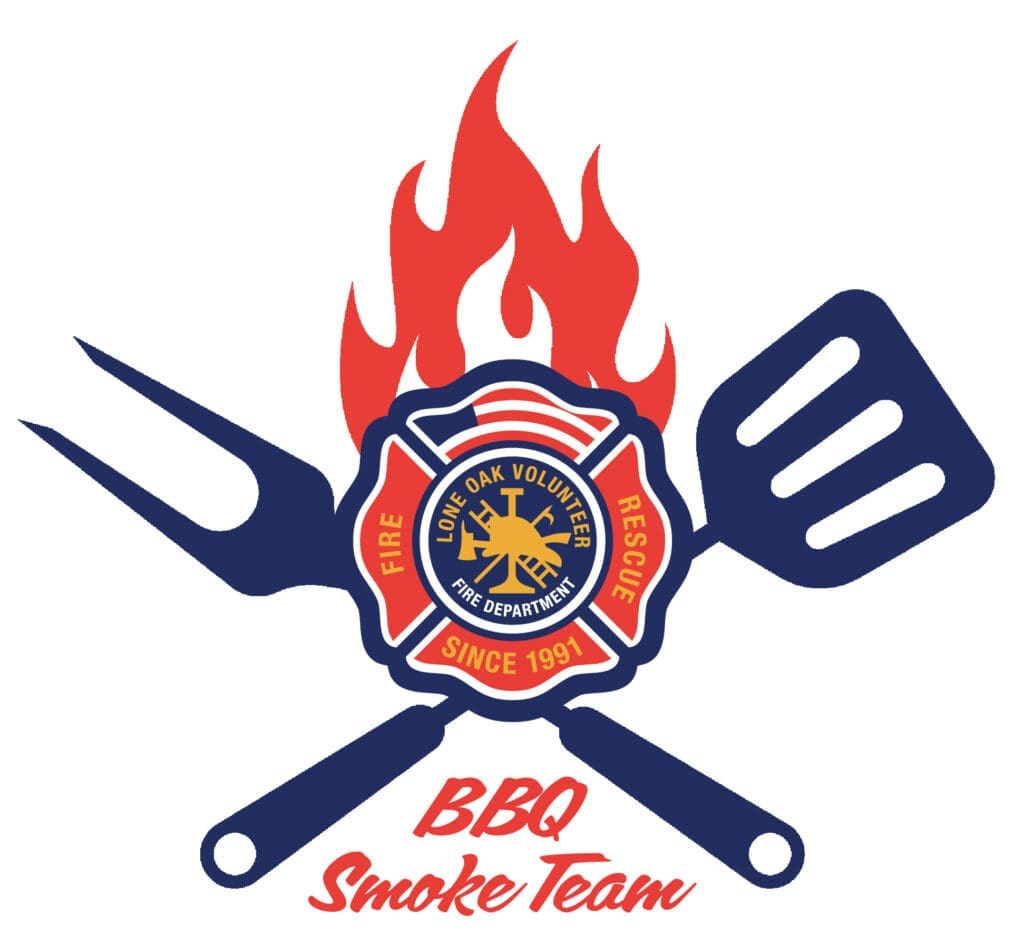 This is the second annual Smoke on the Mountain Bluegrass & BBQ held at our neighboring Walden's Ridge Civic League. This is not only a fun competition but a great fundraiser for my department, the Lone Oak Volunteer Fire Department. As you know, over 70% of fire departments in this country are volunteer and right now we're all struggling for members and funding. See one of my recent posts. If it so moves you, please consider a donation to your local volunteer fire department or the Lone Oak Volunteer Fire Department. It will be very appreciated!
Ok… a few weeks back we made about 80 jars of my BBQ sauce as well as some spicy pickled carrots (recipes below).
Here's a link to my post on the 2022 event.
Thursday
Ok, here we go!
Some groceries needed for plating as well as the dinner I'm making for our team and the neighboring teams. I'm going do do some Asian ribs as it's been a while since I've done these and a little different than the typical Southern BBQ that we'll have more than enough of.
I'm also going to look for some shishito peppers to roast and a pineapple for grilling and caramelizing for dessert.
So need supplies for that stuff as well as some parsley and romaine for plating for the judges.
From there I'll start marinating 8 racks or so and begin loading things in Spike (my 4Runner).
Friday
I'll kick this off by heading out around 1:30 as we can pick up the competition meat at 2. Then to start trimming and seasoning that for as long as possible. Then to finish setup and get the grill lit for our dinner to go on around 2:30 or 3 as that'll take about 5 hours.
From there, more wood on the smokers and it'll be time to get the pork butts on for the long, low and slow smoke through the night. Last year it took about 14 hours total so I'm using that as a rough estimate but you never know how things go.
Ok… the ribs for dinner are now marinating and soaking up some saucy goodness. 🙂
A Chilly Surprise
So, as always (especially with small town events), there was a curveball that none of us saw coming. The meat was delivered right on time at 2 BUT the pork butts were frozen. And I don't mean a bit, I mean rock hard frozen. What the?!? Decided to unwrap them, put them in a plastic container and then in the back of my car for hopefully a quick defrost. It should be interesting. That maybe worked a little but still I had to do something different. Added some water to see if that would help and also set them on our table in the sun and kneaded them with my fists about every 15 minutes flipping them around. That seemed to help.
In the meantime thinking about my frosty situation, I got setup and the smoke rolling for the Asian ribs. Decided last minute to get some bologna (or chub, as they call it here in the South) to smoke as I've never done that before.
Both the bologna and the Asian ribs turned out phenomenal. The wood smoker we had gave things a strong "woody" taste (shocker, I know) and the Kamado Joe gave a solid, but not overpowering smoke flavor. I love this smoker as it's ceramic and really keeps all the moisture in so no need for a water pan.
It's been a long time since I've made these ribs and I had forgotten how good they really are! Recipe below.
It was about 9 and I finally decided to season the pork butts to rest another hour or two and then get them on.
As a bonus, there was also a full moon.
Saturday
It seems like I got a handful of 15-minute chunks of sleep through the night. The energy is waning and I was definitely ready for some coffee. The night was much warmer than last year, a sweatshirt was just needed with shorts and the campfire kept the warmth going.
In addition to the pork butts, we were also entering baby back ribs in the competition. A little after sunrise and some coffee it was time to season them. The plan is to get them on the Kamado Joe after the pork butts were pulled, wrapped and resting in the cooler.
The pork butts were getting up to temp despite the temp they got on. When I first stuck the thermometer in it registered 37º… still well below room temperature.
My Thoughts
The spicy pickled carrots and BBQ Sauce was spot-on and the Asian ribs were full of their surprising and not over-powering Asian flavors. Definitely something unique and new to a Southern BBQ competition. The smoked bologna was great too! With some added BBQ seasoning the flavor was solid and a great thing to have around to nibble on.
Competition Meat
The pulled pork was great and moist, but I think the frozen issue led to it not being as juicy as it could've been and that I've done in the past. I think this was due to the cold temp when I got it in the smoker.
The BBQ ribs felt perfect when I pulled them and were perfect when cutting them… the meat stuck to the bones but with a slight pressure pulled off easily. My rub was great and I mopped it prior to wrapping which added even more of that great sauce flavor. The taste? No question, the best BBQ ribs I've ever had or made. They were perfection in pork goodness.
Of the 9 teams competing this year, we finished 3rd and I am extremely happy and proud. Among the competitors were 3 professional teams, our locally-owned grocery store (which smokes meat daily) and my BBQ buddies and neighboring fire department, Walden's Ridge Emergency Services.
Two pro teams took first and second with us earning the bronze.
Well done and delicious!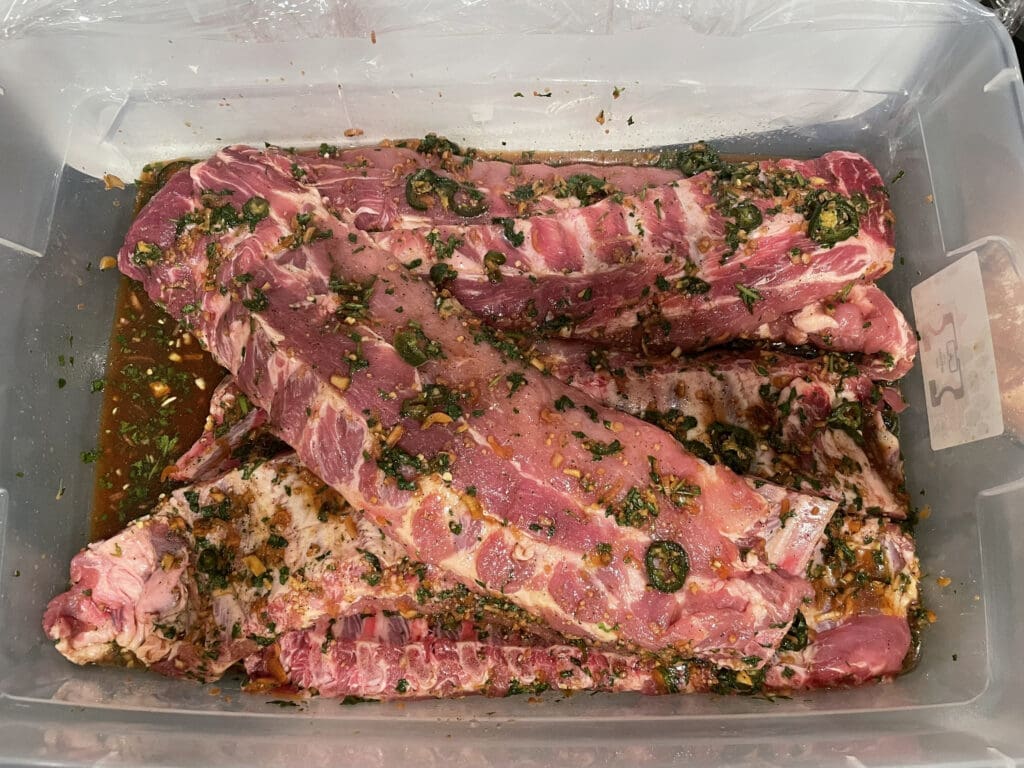 Recipes
Asian Baby Back Ribs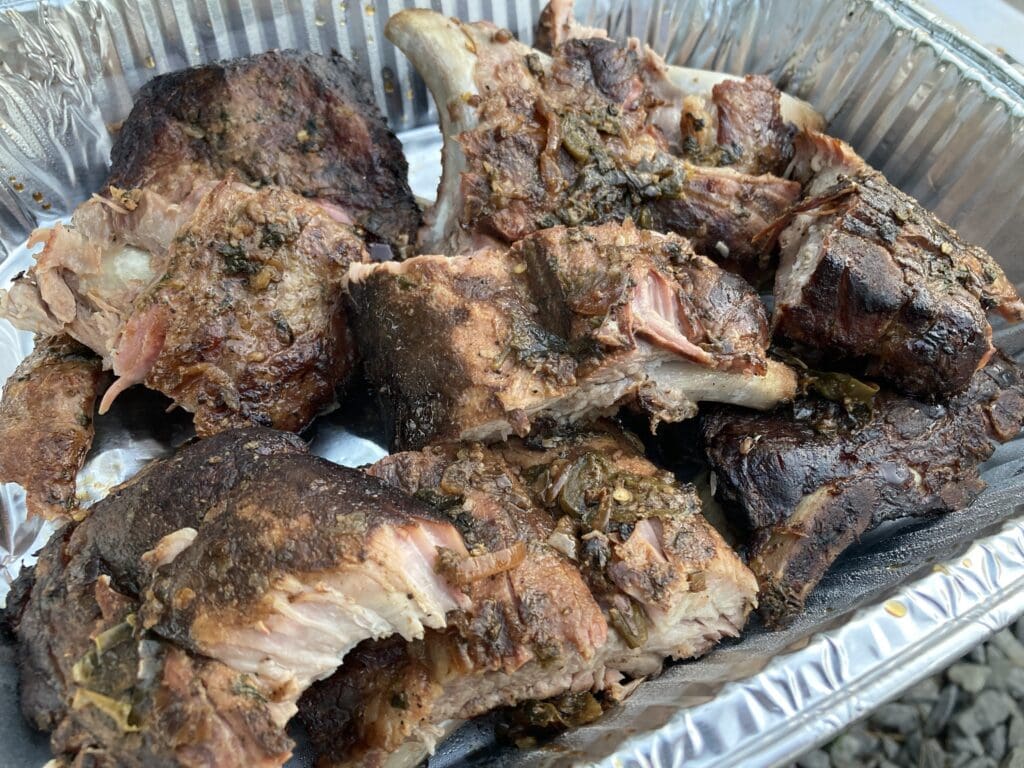 (Steven Raichlen, auther of a ton of BBQ books)
2 racks baby back pork ribs, about 4 pounds total
4 stalks lemongrass, chopped (white part & some pale green)
4 cloves of garlic, crushed
2 shallots, finely chopped
2-inch piece gingerroot, grated, about 2 1/2 tablespoons
2 Thai chiles (or 4-5 jalapeños), seeded and thinly sliced*
1 cup chopped fresh cilantro
3 tablespoons sugar
2 teaspoons ground coriander
1 teaspoon ground black pepper
1/4 cup soy sauce
3 tablespoons each fish sauce & lemon juice
1/3 cup vegetable oil
In medium bowl, stir together all marinade ingredients; pour over ribs in heavy, resealable plastic bag. Seal bag and refrigerate for 4-6 hours. Turn the ribs two or three times while marinating.
Prepare an indirect medium fire in grill, with a drip pan in the center. For a gas grill heat grill to medium and turn off any burners directly below where the food will go. With the lid closed, the indirect heat method serves as an oven, circulating heat evenly throughout.
Remove ribs from marinade (discarding marinade), place in rib rack and place on grill over drip pan, away from the heat. Cover grill and grill for 1 1/2 hours, until rib meat is very tender.
Transfer the ribs to a cutting board, cut into serving portions. If desired, serve with Vietnamese Dipping Sauce (recipe below).

* wear plastic gloves to protect hands when handling chiles
Vietnamese Dipping Sauce
1/2 cup grated carrot
3 tablespoons sugar
2 cloves garlic, crushed
1/2 cup water
1/4 cup Asian fish sauce
1/4 cup lime juice
1 tablespoon rice vinegar
1 to 2 serrano or Thai chiles*, seeded and thinly sliced
1/4 teaspoon black pepper

Place all ingredients in medium bowl, stir to dissolve sugar. Pour sauce into individual bowls for dipping.
JK/LOVFD Sweet & Smoky BBQ Sauce
2 sautéed onions, carrot, celery (sautéed in a little olive oil until medium charred)
3 cloves minced garlic, sauté
6 TBS packed brown sugar
1/2 C apple cider vinegar
1/4 C molasses
1/4 C honey
1/4 C Worcester sauce
3-4 TBS whiskey
2 TBS yellow mustard
1 TBS liquid smoke
Sprinkle dry mustard
1 TBS chili powder
2 tsp black pepper
2 tsp garlic powder
2 tsp onion powder
1 tsp allspice
1/4 tsp cloves
4 C ketchup
Salt/pepper to taste
Spicy Pickled Carrots
Ingredients
1/2 lb carrots
2 jalapenos
3/4 C white vinegar
1/2 C apple cider vinegar
1 tsp dried oregano
1 bay leaf
1/2 tsp cumin seeds
1/4 black pepper
1/4 C red onion
2 cloves minced garlic
1/4 tsp salt
Steps
Cut carrots into coins
In a saucepan, bring but carrots and jalapenos to a boil
Add carrots and jalapeños to jars
Pour liquid into jars and seal
---
Subscribe today to not miss a thing.
My blog posts of the week emailed to you in a nice little (email) package.