You know, this past weekend started out with a plan on what my music creativity will look like. Working on barre chords, running through some current song chords for some exercises. Lately this has included Tangled Up In Blue by Dylan, U2's One, Here Comes the Sun by the Beatles, Trains by Porcupine Tree, and You Can't Always Get What You Want by the Stones. Then after that was to work on my song, Bright Star. To further solidify the chord progressions, primary rhythm pattern and go from there. But, as most things with creativity, you're not always in control.
My creative spark took a new direction. My playing and attention shifted to Sign 'O The Times by Prince. What a great song and based on the current world could use an update. So I started really listening to the lyrical flow along with writing some new ideas for lyrics. Some that relate more now rather than when Prince wrote and recorded this in 1987. As a side note, I really love Steven Wilson's live version of it also (2017-ish).
That was Saturday.
Sunday
Sunday after my walk with Clover through the neighborhood, a little reading a new book, my wife was addicted to. The Paris Secret by Natasha Lester. I'm about 5 chapters in and so far it's awesome, but I'll let you know my thoughts when I finish it.
Also, some more notes for new lyrics and Sign 'O The Times running through my head. New rhythms? New arrangement? Same or different chord progression? All good and creative thoughts. It's always exciting to wonder where this is going to go.
I've also looked at the guitar tabs/chords but am wondering also if I'll change key from the original. And what else. I think first will be turning my lyric ideas into phrases similar to what Prince did, weaving together stories. And then, I can tackle the key, the chord progression, and rhythms behind the verses and chorus.
These "Play" posts seem to be lately about my creative process which also generates a multitude of ideas for work. I have my Notes app on my phone where I have a place to put random short-term thoughts organized by my day job and consulting clients.
In addition, earlier today I also did some meal prep for my lunches this week. Sushi was set today and is now safely in the refrigerator for this week. I made a hearts of palm-type 'crab' salad, along with cucumber, carrot, a spicy Japanese seasoning and some bonito flakes.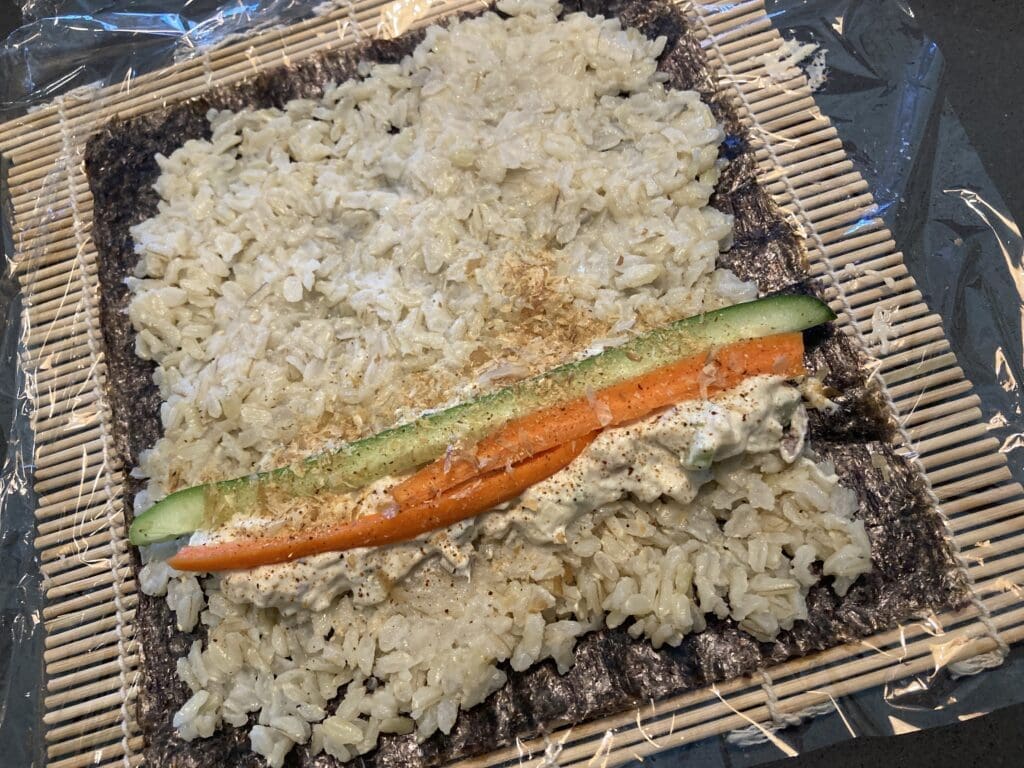 I love cooking, music and in spurts, reading. The weather is nice here in Southern Tennessee and it's always nice to do what I can on our screened in porch with the wind rustling the trees and the songs of Spring by a variety of birds.
I guess the point of this post is to follow what you feel and follow what leads you. Creativity is always an interesting subject and I always choose to follow that spark. I invite you to follow your creative sparks too.