Marketing videos are a powerful way to present stories and ideas in an engaging format that resonates with audiences. This is a trend seems to be more general, as opposed to speaking to your target audiences. In addition, it's important to communicate the value your product or service brings. My marketing activities this year are heavily focused creating video content. From introducing products to demonstrating tips & tricks, sharing clips on emails/social media, video streams, and YouTube videos – it's all about giving that extra personal touch to my communication efforts.
Make your video production process a breeze by using green screens – the secret ingredient to elevate your marketing videos. Learn more below about this powerful tool and how it can revolutionize both content creation and delivery.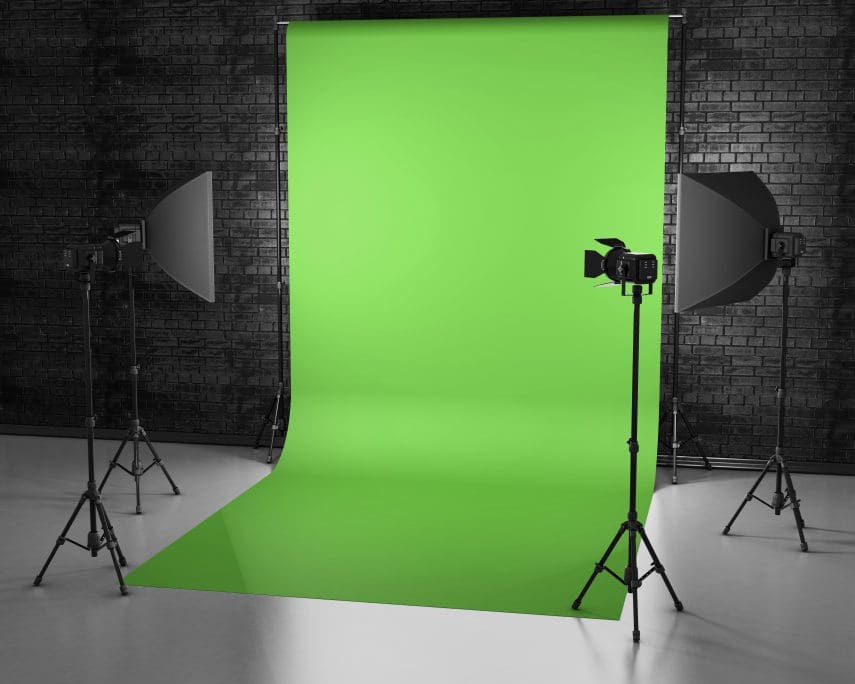 The purpose of a green screen
Using a green screen allows you to insert a background image or video that is not physically present. This is called a "green screen effect." Instead of having to recreate the scene over and over, green screen technology allows you to "superimpose" an image onto the green background. This gives you more control and flexibility when creating videos to be used for so many different purposes.
Using a green screen is a great for adding in effects such as explosions, smoke, lighting and much more. Us marketers love that stuff. You can also use it to add in virtual backgrounds. Think about being able to shoot your marketing video from anywhere you want without actually having to be there! Additionally, green screens can be used to create engaging content, product demonstrations, interviews with experts/customers, and explainer videos. All without needing to go on-location and shoot.
It's an essential tool for creating high-quality marketing videos that convey the value in an engaging, impactful way. With green screens, you can easily create professional, eye-catching videos without having to spend a fortune on production costs.
What is chroma key as used with green screens?
You've heard of chroma key? Chroma key uses green screens to replace a solid color (often green or blue) with a background image or video. This technique is used in filmmaking, television production and even music videos. It's been around since the early days of television back in 1940s!
It works by first shooting your subject against a green (or blue) background. Then, you use software to "key out" the green background and replace it with another image/video. This is known as chroma keying. The process of chroma key green screen allows for much greater flexibility. When creating marketing videos – it allows you to easily add in different backgrounds or insert special effects.
Why is green the color for most green screens?
A green background is the color of choice because green appears very differently in various lighting conditions. This makes it easier to differentiate green from other colors, as well as make it easier to "key out" green when using chroma key green screen technology.
In addition, green stands out very prominently against most skin tones – making it easier to avoid green spillover when the green background is replaced with another image.
Why use a green screen for marketing videos
With a green screen background, you can create dynamic marketing videos that captivate viewers and help your business stand out from the competition. This technology offers realistic scenes without a, expensive video production cost or special effects – plus quick editing for maximum impact! Make an impression with highly immersive campaigns that bring graphics or far-off locations to life in vivid detail. Unleash your creativity and give your audiences something unforgettable.
How to set up a green screen
Setting up a green screen is actually quite easy and can be done with minimal equipment. You'll need: green seamless paper or fabric, green paint, a stand to hang the green backdrop (if using green fabric) and lighting (preferably LED lighting). Additionally, there are several off the shelf green screens that are portable and can be used in a home office (as I will).
Choose the size of your green backdrop depending on how much you plan to move around in your video – make sure there is enough space for it all! Then, set up your green background on either the wall or a stand. Place two or three lights at 45 degree angles so that they cover the entire green screen evenly. Finally, adjust the color settings on your camera to match the lighting – this ensures that colors are consistent throughout your footage.
Once you've set up your green screen, it's time to start shooting. Have fun and create something amazing! With green screens, you can bring any story idea to life – the possibilities are endless. So get creative and don't be afraid to experiment with green screen effects for marketing videos today. Your audiences will thank you for it!
What lighting to use for a green screen background
Green screens require evenly-distributed lighting to ensure that green is consistently keyed out from the background. LED lighting works best for green screens as it produces a crisp, even light that won't wash out colors or create hot spots in your video. However, if you don't have access to LED lights, you can use halogen or fluorescent lamps. Just make sure the color temperature is between 3200K and 6500K – this will help prevent green spillover.
When setting up the lighting for your green screen, place two or three lights at 45 degree angles so they cover the entire green backdrop evenly. Additionally, adjust your camera settings to match the green screen lighting to ensure that colors are consistent and there is no green spillover. Here's a link to a great resource for more details and specifics.
How to shoot green screen videos
Once you've set up your green screen, it's time to start shooting. Make sure that you maintain a consistent distance between the green backdrop and yourself – this will help avoid green spillover on skin tones or other elements in the frame.
When filming with green screen, be sure to leave plenty of room around the actor so they can move freely while still being framed within the green background. If you need to adjust framing during a take, do it before starting a new take as camera movement after the fact can cause motion blur which will make it difficult (or impossible) to key out green correctly.
Finally, be sure to limit camera movement in order to keep green spillovers at bay and maximize green screen accuracy.
Tips for editing green screen footage
Ready to get started with green screen? Here are some tips:
Choose the right green screen – matte green is best for most applications as it provides even color coverage and does not reflect light.
Set up your green screen correctly – make sure it's evenly lit and smooth so that there's no wrinkles or creases that could affect the video quality.
Adjust the green screen lighting to match your camera – this ensures that colors are consistent and there is no green spillover.
When shooting, keep a consistent distance between the green backdrop and yourself – this will help avoid green spillover on skin tones or other elements in the frame.
Limit camera movement during filming – this will minimize green spillovers which can make it difficult to key out green accurately.
Get creative! With green screens, you can bring any story idea to life – the possibilities are endless.
My tools
My video marketing green screen setup includes:
The green screen is made of high-quality polyester fibre material with a seamless design. Not prone to wrinkles.Good abrasion resistance, more stronger and durable.
T-shaped background stand has an adjustable telescopic mechanism. Features adjustable telescoping mechanism for raising and lowering.
Strong spring and the rough surface enable itself to clamp anything onto the stand tightly.
Upgraded Powerful Light Output – The upgraded 70W CB60 LED Video Light provides maximum illumination of 9000lux at 1m continuous lighting for vlogging, wedding, portrait, product, or on-location photography. Brightness can be adjusted from 0% to 100%, this can be done via a knob or via the 2.4G remote control: increments by 1%
Ultra silent fan – Built-in Ultra silent fan and upgraded heat dissipation system can meet the needs of different scenes, providing creators with a highly silent environment for video productions and improving their efficiency. The LCD panel shows legible readings on brightness, channel number, and real-time operating temperature. A protective cover keeps the LED from scratches
Stable & Reliable Lighting – Stable 5600K daylight offers consistent lighting color for all your shots. CRI and TLCI 97+ ensure accurate color reproduction that helps take vivid and attractive photos and videos
Wireless Remote Control – Use the 2.4G wireless remote to adjust the brightness from 0 to 100% or turn the light on/off within 66′ (20m). Ten selectable channels (CH1~CH10) enable you to control up to ten lights. Set the remote to CH88 to control all lights at the same time
Versatile Mountings – Bowens Mount attaches various light modifiers, including reflectors, softboxes, and beauty dishes. The included mounting bracket offers 180° beam angle adjustment and features a hole for inserting umbrellas
Call, stream, blog, and record like a pro in crystal clear HD video and audio. With spectacular video quality up to HD 1080p and dual built-in mics, C920X makes it a breeze to make your video presence stand out from the crowd.
Create cinematic movie titles, intros, and transitions. Start a fire or make it rain. Animate a logo or character. With After Effects , the industry-standard motion graphics and visual effects software, you can take any idea and make it move.
Additional videos that I've found helpful
Examples of successful marketing videos that used a green screen
From comedic skits to fast-paced product demos, successful marketing videos using a green screen can quickly captivate their audience. Take Adobe Spark's video titled "Accessible Video Creation with Adobe Spark," for example. This particular video uses a virtual set featuring icons of the software tools used for creating unique artwork and videos. Openfit created an entertaining video about which exercises work best for at-home workouts—this was produced using a vivid backdrop competently blurring the line between the real world and the virtual. In both scenarios, the green screen produces successful videos with stunning visuals that reach their target audiences without fail.
Summary
Green screens are a great way to add production value to your marketing videos without breaking the bank. Video marketing is trending upward in terms of both popularity and effectiveness. By following the tips above, you can easily set up and shoot your own green screen videos. Just remember to keep your lighting bright and even, use a high-contrast color for your backdrop, and be careful not to let any of the green spill onto your subject. With a little bit of practice, you'll be creating amazing green screen footage in no time!
Are you toying with green screen videos or do you currently produce them? Any thoughts or tips? As always, comment below.