Are you a B2B marketer looking for ways to stand out in an increasingly noisy market? Do you struggle to differentiate against competitors and make your products, and services shine? Are you looking to grow a successful business? If so, then this is for you! I'll be discussing the importance of having sound business and marketing management processes in place in order to successfully compete, and excel, in today's highly competitive landscape. I'll go over how leveraging technology designed explicitly with workflow automation can help improve efficiency. As well as discuss key strategies that will ensure success. Keep reading if you're curious about taking control of your business' future and want proven advice on how to handle cutting through the noise.
Identify Your Audience
Do research to find out who your target customer is and what their needs are
Doing your research is so important when it comes to identifying your audience. Understanding who your target customer is and what they need, then tailoring your message to fit them, can be the difference between success and failure in a crowded, B2B market and having your business stand out. Taking the time to scour through customer reviews and surveys, then craft content specifically for this dynamic audience will leave you feeling more confident that what you're creating resonates with them. With the right research and plan of action, there's no reason why you can't stand out from the competition and make an impactful statement.
Find your unique point of difference
Identify the unique differentiators that make up your business
Leveraging the unique points-of-difference that set you apart from the competition can be incredibly effective in a field saturated with similar offerings. Be sure to emphasize these points whenever possible. This can start with reviewing your brand assets, or performing a brand identification project. Knowing who you are and what makes you stand out can help you to craft effective messaging that reflects the essence of your brand. This is huge to your competitive advantage. Using these points-of-difference in your marketing campaigns will certainly send a strong message to those in the market. It will also set you apart and making sure that consumers remember your offerings above all else.
Focus on a narrow niche
Choose a specific niche to target and drive all of your efforts there
By narrowing down your marketing efforts and focusing on one specific niche. You will be more effective in navigating the B2B market. This allows you to tailor your message specifically to this audience, creating a stronger connection with them. You'll also be able to create more targeted campaigns, ensuring that your efforts are far more successful. There's also a higher likelihood of being found by those searching for services in your particular niche. This is due to the fact that you are highly visible in searches related to this specific market. This narrow focus can help you stand out from the competition and make a lasting impression on new customers.
Become a thought leader in your niche
Be a thought leader in your niche to establish yourself as an expert and build trust with your audience
Being seen as an authority in your field can help you stand out from the competition. Take the time to create content that establishes you as a thought leader, then share it consistently. This will show your audience that you are knowledgeable and experienced in what you do. It will also illustrate that you can be trusted to provide them with the best service. Regularly posting content related to your niche will help further demonstrate your expertise. In addition, it will create a strong connection between your brand and audience.
Solve challenges and problems
Show your audience that you can solve their problems and beat the competition
The best way to position yourself as a leader in a crowded B2B market is by showing your customers that you have the insight to solve their challenges. Becoming the go-to source for problem solving will put you ahead of competitors. Create content and campaigns that speak to their unique needs and challenges, and demonstrate how your offering can help them. This will show them that you are different, and make life easier for them through your product and service solutions.
One example that may help solve a challenge is to use data-driven insights. By collecting and analyzing customer data, you can gain valuable intel into their needs, preferences, and challenges. Use of this knowledge allows you to provide tailored solutions to directly address their issues and make them feel heard. It will also help your product marketing and development team create new or enhance existing products. This is sure to set you apart from the competition and show customers why your business is the best choice.
Use your marketing channels
Market through a variety of targeted marketing channels to stretch your reach
By leveraging a variety of targeted marketing channels, you can ensure that your message is heard by the right people. Use social media platforms (LinkedIn for B2B) to reach prospects, create digital and email campaigns to engage past and potential customers. Invest in influencer marketing to gain visibility, and use search engine optimization (SEO) tactics to get higher rankings on search engine results pages. Also consider traditional marketing methods like print media (trade journals). Each of these channels has its own benefits and drawbacks, so it's important to choose the ones that will best suit your needs. By exploring all of your options, you can maximize your reach and make sure that your content is seen by the right people at the right time.
13 proven ways to make your business stand out from competitors
There are several ways that you can help you stand out in the market and differentiate from the competition.
Refine Your Message
Analyze the messages that your competitors are sending and develop a unique message for your own brand
As a B2B marketer, it's important to take extra steps to stand out from the competition. An effective strategy is to analyze the messages that your competitors are sending , then come up with a unique message tailored towards your own brand. Take some time to reflect on what sets you apart from other similar businesses. Formulate the perfect tone of voice that reflects not just your service or product, but also your core values and brand identity. Get creative, use unique language and try different approaches until you find the message that works for you and resonates best with your audience.
Focus on Quality Content
Create content that resonates with your target audience, offers valuable insights, and keeps them engaged
B2B marketers have the tough job of standing out from the competition in a noisy, crowded market. One surefire way to get ahead is by focusing on content quality. Crafting content that resonates with your target audience and offers valuable insight can make all the difference. Make sure to keep their attention with meaningful and engaging content – this will help develop relationships that last, instead of fading into obscurity. Aim for originality, conversational tones, and helpful tips to keep them coming back for more. Put quality first and you'll be sure to succeed!
Connect with Influencers
Develop relationships with influencers in your niche who can help spread the word about your brand in a positive light
Connecting with influencers in your niche can be an effective way for B2B marketers to stand out from their competition. And also to get the word out about their brand. Thoughtfully cultivating relationships with influential voices helps create a positive network of supporters, who can be powerful allies in amplifying the impact of your brand's message. Reaching out in an authentic and personable manner. It's also essential to developing meaningful connections that will help bring new attention to your business.
Build an Online Community
Use social media platforms to build an engaged community around your brand where customers can interact with each other and feel connected to you
Building an online community is a great way for B2B marketers to stand out in the market. By using social media platforms, you can create a space where your audience can interact with each other, as well as feel connected to your brand. There are so many unique ways to engage prospects, from private Facebook Groups to hosting events on Instagram Live. It's important to build relationships and offer personal touches that make your customers feel heard and valued by your business. Creating an online community can help B2B marketers carve out a space of their own within the marketplace and attract a loyal customer base along the way.
Offer stellar sales, customer support, and service
Provide exceptional customer service that sets you apart from the competition and foster relationships with loyal brand ambassadors
In a crowded marketplace, it's important for B2B marketers to focus on what makes their business unique. Offering stellar sales, customer support, and service is one surefire way to stand out from the competition. By delivering exceptional levels of customer service and developing relationships with loyal customers, you will be able to create a positive image of your brand. Make sure to stay on top of customer inquiries. And be sure to provide helpful solutions for their needs. Going that extra mile in order to make them feel valued by your business. The better your customer service is, the more likely customers are to choose you and create lasting relationships. Not just good customer service, but exceptional customer service will bring customer satisfaction.
Highlight good customer testimonials
Share positive customer reviews on your site and social media channels to build trust with new customers
We all know that the best way to get people interested in a product or service is by showing them what others think about it. For B2B marketers, highlighting good customer testimonials on their website and social media channels can be an invaluable tool for building trust and credibility with your audience. Make sure to select testimonials that speak to the unique elements of your service, so readers can see how it has made a difference for others. And don't forget to include names and photos of the people who provided reviews. This will help make them more believable and relatable. By showcasing positive customer reviews, you can demonstrate the quality of their service and attract new consumers in the process.
Create content that educates and entertains
Produce engaging content that your customers will actually want to read
Creating content is an essential element for any successful B2B marketing strategy. Content is what helps build relationships with your audience, as well as demonstrate the value of your service. But producing engaging and storytelling content that people actually want to read can be a challenge. For B2B marketers, it's important to focus on creating content that both educates and entertains. Share stories from behind the scenes of your business, provide helpful tips and advice related to your industry, and tap into current events. By diversifying the types of content you produce, you can keep your audience engaged and demonstrate why you are the best in the business.
Make sure your website shines
Lead viewers through the sales cycle with your website content and information
Your website is often the first impression potential customers will have of your business. Therefore, it's important to ensure that it looks good and functions properly. All website elements should be optimized for SEO and lead viewers through the sales cycle with clear calls-to-action. Structuring your website in a way that allows visitors to find the information they are looking for quickly and easily is essential. Don't forget to include photos, videos, graphics, and other visual elements. These can help break up text-heavy content and make it easier to digest. With a well-designed website, marketers can make sure that their message reaches potential customers in the most effective way possible.
Focus on building relationships
Engage customers through social media, email campaigns, and direct contact
When it comes to B2B marketing, it's all about building relationships with your customers. Focus on engaging prospective clients through social media, email campaigns, and direct contact. Make sure to ask for feedback from your customers, so you can determine what works and what doesn't. And don't forget to thank them for their business – this will help create strong relationships that last. With a focus on relationships, you can ensure that they are building trust with their audience and providing value in the process.
Creativity sets you apart
Generate creative ideas that will make your business stand out in the marketplace
In today's competitive B2B market, getting creative is key to standing out. Coming up with fresh and innovative ideas can help you capture the attention of customers and keep them engaged with your brand. Try new approaches. From creating interactive content to launching a loyalty program. These will make your business stand out in the marketplace. And think outside of the box. Come up with creative solutions to common problems that people face when making purchasing decisions. By thinking creatively, B2B marketers can keep their customers engaged and entice new ones as well.
Create a powerful offer to differentiate
Put together an offer that will give customers the incentive to choose your business
When it comes to marketing your business, a powerful offer can be a great way to set yourself apart. Put together an offer. Things like free trials, discounts, or special incentives will give customers the incentive they need to choose your service.
Think out-of-the-box promotions
Try new approaches to reach people and keep them coming back
In addition to creating a powerful offer, B2B marketers can also try out-of-the-box promotions that will help get the word out about their business. From email campaigns and giveaways, to social media contests and special events, there are many creative ways to engage with customers and keep them coming back. By developing unique strategies that speak to the particular needs of your target audience, you can generate more interest in your service and create lasting relationships with your prospects.
Create a cause marketing effort
Use cause marketing to connect with customers on a deeper level
Cause marketing is an important strategy for any business looking to make meaningful connections with their audience. Not only does it provide you with the opportunity to support a good cause, but it also helps create an emotional connection between your brand and potential customers. Consider partnering with a charity or social cause that is closely aligned with your service offering and craft a meaningful message that resonates with your audience. By investing in cause marketing, B2B marketers can build trust and loyalty among their target audience and demonstrate why they are the best choice for their services.
Embrace new technologies & marketing automation
Explore new technologies such as AR/VR or AI to create immersive experiences for audiences that will set you apart from competitors
Every B2B marketer is faced with the challenge of cutting through the noise, but embracing new technologies can help break through. AR/VR and artificial intelligence offer innovative opportunities to create immersive experiences that bring customers closer than ever to brands. This technology allows marketers in any industry to stand apart from their competition and deliver personalized, high quality customer experiences that leave a lasting impression. Taking advantage of such evolving technology can be a great way to make your mark as an innovative B2B marketer!
Marketing automation can also help streamline processes
Automation is an increasingly popular tool for B2B marketers, as it can help to eliminate manual processes and save time. By using marketing automation tools, businesses can ensure that they are reaching their target audience quickly and efficiently. Automating certain tasks such as lead scoring or email campaigns can also free up resources so that marketers have more time to focus on creating quality content and developing strategies that will drive results. Marketing automation can be a great way to reach customers in a timely manner and help B2B marketers save both time and resources.
A great example
Resources, information and education boost HubSpot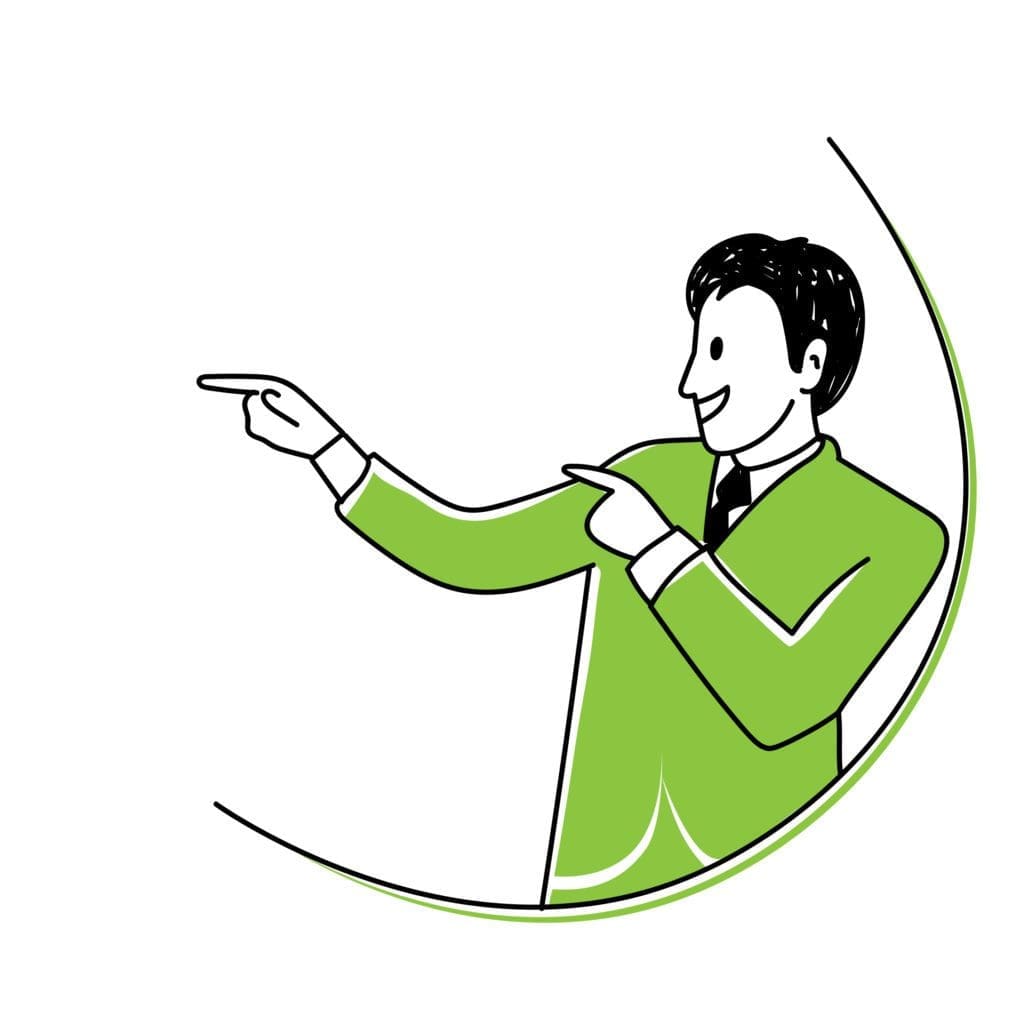 One company that does a great job on standing out is HubSpot. They use a combination of content marketing and automation to reach their audience in an effective way. Their blog is full of helpful articles and resources that educate their readers on a range of topics, while also including CTAs that direct visitors to specific pages where they can learn more about the company's services. HubSpot also uses automations to ensure that the right content is being delivered at the right time, further increasing their reach and building relationships with customers. By using a combination of technology and compelling content, HubSpot has been able to successfully differentiate itself from other marketing companies.
Summary
In order for your business to stand out in a noisy market, B2B marketers need to focus on engaging their audiences with unique messages, quality content, and innovative technologies. Identifying the target customer and understanding their needs is paramount for creating an effective strategy. It's also vital to leverage influencers, build online communities and explore new tech solutions such as AR/VR or AI that will make your brand memorable. With all these elements in place, you will be able to differentiate over competitors, improve business growth, and engage your customers in remarkable ways.
Have you been able to successfully stand out from competition? What has worked for you? Comment below and let me know!